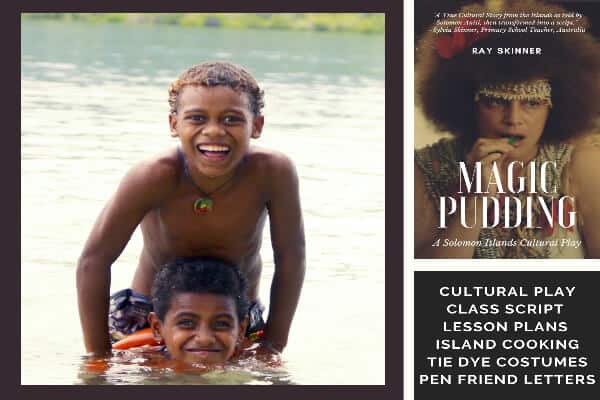 Want to deepen your students' cultural awareness with fun-filled experiences?
A Cultural Play with Activities for one term
The Magic Pudding Play is a real Solomon Island Custom story, transformed into a FUN cultural drama. It has been written for 10 or 20 or 30 students to perform for an assembly or end of year performance.
I have used the play with over twelve classes and each performance has been loved by the audience.
I have included a series of cultural activities
The cultural activities can be spread throughout the school term. It depends on how deep you want your students to go. There are NO worksheets. The activities are explained in a nine page pdf
English – persuasive writing: What is a need/want? – Penfriend Letters
Art – make Lava Lava's and wear in performance
SOCE – Compare habitats – Collect water, 1-hour walk activity – Motu Oven activity & procedure writing
The 45-sec video shows how two of my Year 6 students in Media Arts, introduced the Magic Pudding Play at an 'end of year' school presentation. I have edited out the parts where they recorded students in the class.
The students used a few snippets from the 10min YouTube by 'The Solomon Islands' Arasuka'aniwara panpipe band'. Your students might like to watch this.
You must log in and be a buyer of this item to submit a review.
Thanks for Visiting! - Sylvias
| | |
| --- | --- |
| EDU Levels | Grade 07, Grade 4, Grade 5, Grade 6, Teens |
| Subjects | Drama, Visual Arts, Writing |
| Type | Activities, Scripts and Plays, Unit Plans |
| Videos mp4 only | |
| Video Duration | |
| Documents - (pdf, jpg, jpeg, png, ppt, docx, xlsx, xls) only | |