Hi, I'm Sylvia Skinner, a classroom teacher, creator of the time management course 'Go HERO', founder of a school and I Love To Teach 101, which gives a helping hand to teachers in need.
First, let's talk about YOU!
You are a dedicated teacher, which means, like most classroom teachers, you work 60 hours or more per week, but a teacher's contracted hours are actually 40 hours.

Now, I'm here to help you develop practical systems that prevent burnout and help you get stuff done in your contracted hours.
Are you always thinking about school work 24/7? Even on weekends and school holidays? 
You became a teacher to make a difference. Or as  Nelson Mandela said 'Education is the most powerful weapon which you can use to change the world'. 
I help teachers just like you, to zero or halve your non-contracted hours in ten weeks or less. It's time to get off that time treadmill, love to teach and live your life.
I also include in the PD course a copy of my digital teacher planner, designed to save time. 
Back in '86 was the first time we went overseas for seven years as part of the British Aid Programme in Solomon Islands.
About a month into our arrival, Cyclone Namu hit. My hubby, was busy organising emergency supplies being the hospital pharmacist, while I was left to fend for myself.
An Island family came to live with us who were stranded and we learned about Island life. Yep, that's me in Traditional Island Dress . . . and that's my natural hair when brushed. I'm half Jamaican, half English, if you didn't guess – hahaha!
I was asked to teach the Foundation class at a local school where teachers from all over the world taught. I made mistakes but the school principal made me promise to get my teachers degree when I got back to the UK. 
So, I did just that but after emigrating to Western Australia (WA).  Having gained my Education Degree with Honours, I taught for several years in WA before going back to the Islands in 2002.
This time, I built a school, trained teachers, did the budget and accounts . . . all while teaching my own Foundation class. You can bet your life, I learned about time management and teacher productivity. Now it's one of the top schools in the Islands and student teachers want to train there.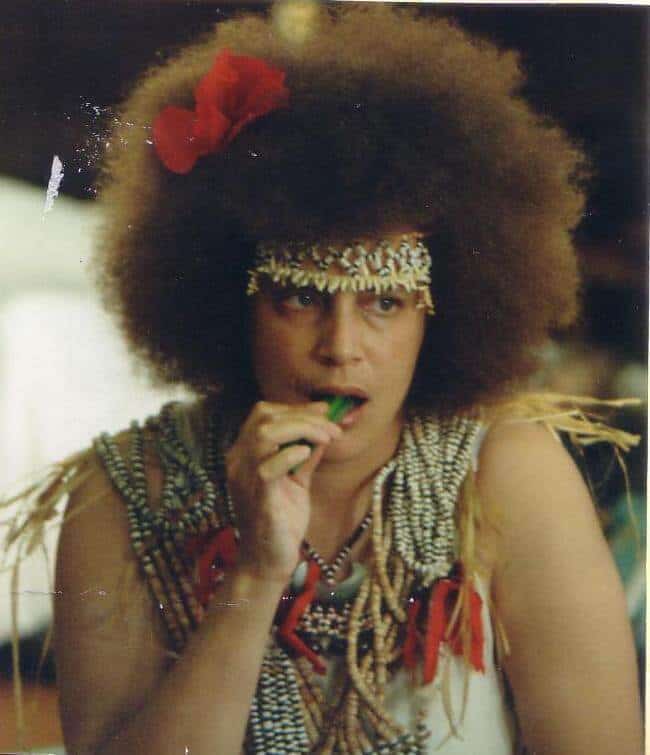 Why help teachers in need?
Over the years, I met Solomon Island teachers in need who were super committed, given that many receive so little salary if any. Then they have to work in their large garden far away in the bush after school each day to grow their food.
Now, I'm back teaching in South Australia, creating resources to help teachers work smart, so I can use the revenue to help teachers in need.
Hey, want a PD course that's fun and has gamification?
Grab this course outline.
I am really excited about what I Love to Teach has to offer. It's a real way to support one another in our busy and often overworked occupation. What a great way to be supportive but also save time for ourselves too!
I have found Sylvia Skinner a joy to work with: a dedicated teacher and inspirational leader, who raised others' expectations of their abilities and who demonstrated in her attitude and work output what could be done.
I have known Sylvia for thirty years both as a friend and fellow educator. She has a unique blend of professional expertise, ability to motivate and at the same time make the whole experience enjoyable.